Posted By The Miller on December 8, 2009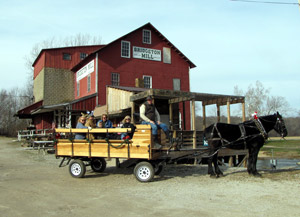 Larry and Pete stopped by to give rides to folks.  Well … they didn't give them away!  Covered Bridge Christmas was very good this year (last weekend of Nov and the first weekend of Dec.) … lots of folks came to stock up on Bridgeton Mill's fresh stone ground products.  They know we will be closed until spring.
It has been a wonderful year.  Oh yeah …. Pete is the horse.