Posted By The Miller on December 13, 2009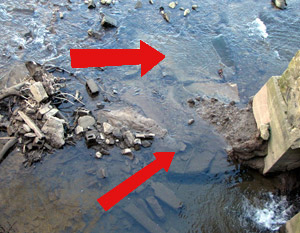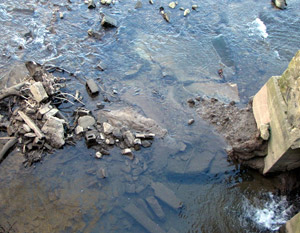 As the water washes out more dirt I see more and more of the bedrock and ……. stuff.  I am looking for a channel.  Hansel (Former owner of the mill (1938 – 41) blasted out a channel with dynamite  so he could get more horsepower.  I know where it should be but it was under about 6 ft. of dirt.
The dirt is now gone and only rocks, sand and cement chunks are left.  I took this photo from the deck on the back of the mill … looking down at the creek.  In the photo you can see the wall (under the water) that blew out in the dust explosion of 1951.  I thought it had been blown apart ….. wrong.  The top part or second floor was cement blocks.  They are all over the creek.  The lower portion was a cement wall.  Twelve inches thick with re bar –  23 1/2 ft wide and I don't know how high.  It is laying in the channel I have been looking for.  The rest of the wall is still under the junk on the left.  I need to remove this concrete to get to the channel.