The Covered Bridge Is
"Indiana's Most Famous Covered Bridge"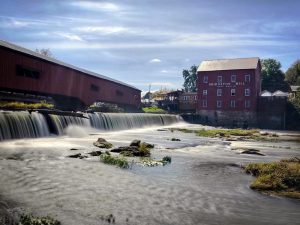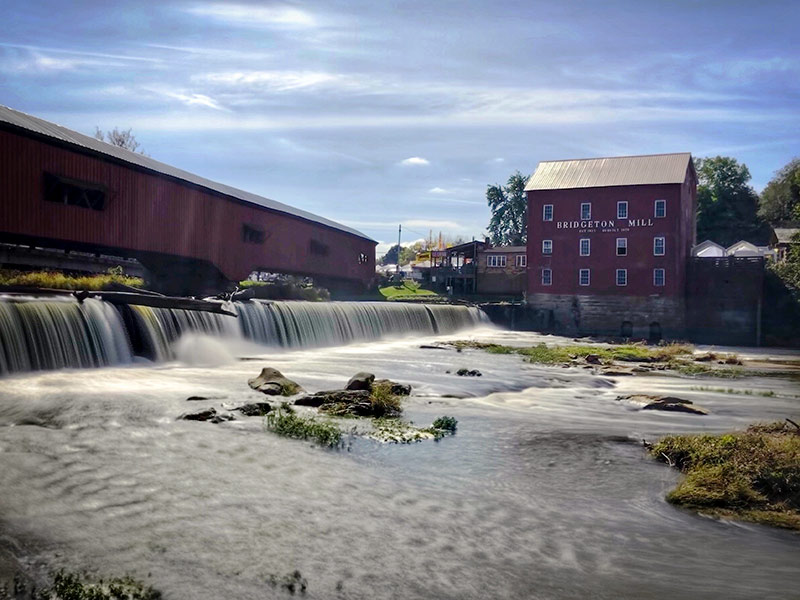 The covered bridge crosses over the mill pond which is created by the mill dam.   This puts it just above the waterfall. I like to call it the "Dam Waterfall".
The covered bridge being over a waterfall makes it Indiana 's Most Famous Covered Bridge .
The dam is

nine feet tall

and

220 feet long

.
The waterfall is 200′ long- the foundation of The Mill is actually part of the dam.
The covered bridge is

261 feet long

. (The postcards say

245 feet

).
It is a

double span Burr Arch

originally built by

J.J. Daniels

in 1868.
The covered bridge was

"Set Aside"

or closed to traffic in

1968

.
It was burnt down in 2005 and re-built by the good people of the community in 2006
Of course, the Historic Bridgeton Mill sits on the end of the dam.
This gives us the view that makes us famous…….
A Covered Bridge
Over a Waterfall
and a Proud Old Mill
Setting on the Hill
Overlooking It All
Sign up for our Newsletter
Follow the stories in our Blog