Posted By The Miller on December 14, 2009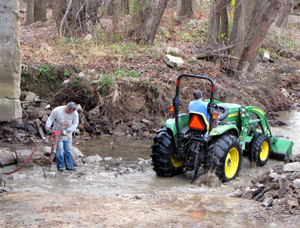 Here is Chris (Our oldest son) helping me with the work.  I am pushing the broken concrete and rocks away from the fallen wall.  I'm also trying to direct the water away from the work area.
The water came back up the next day so we had to stop.  We got a little less than 1/4 of the wall broke up.  I did manage to pick up 2 nails with the tractor tires.  One flattened  a front tire.  The other one went into the knob of the rear tire so it didn't cause a flat.  I believe this makes 8 flat tires from driving in the creek.