Posted By The Miller on August 24, 2010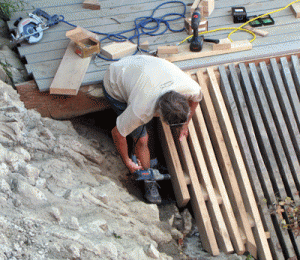 The drought is here.  I'm the only one around here that likes a drought.
Lowered the mill pond (with the gates) so I could finish the trash rack.  I was going to build a security fence to keep folks off of the walkway.  I have seen very few on it, so I just added more boards – more water for turbines.  Now I can do some serious flushing when there is high water.  Had trouble shutting the big gate now that the mill pond is always full.  It lowers slowly, so the water starts building up until there is too much pressure for it to close.  Dustin (Middle son) was there and we stuck a 4 X 4 under the brace on the gate and unhooked the chain that lowers it.  Then we raised the 4 X 4 and """WHAM"""" the gate closed – all the way.  We reattached the chain.