Jacking Around at the Mill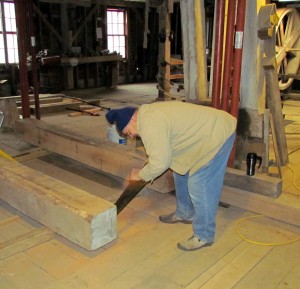 Dave Gahimer and I are starting the job of raising the mill to put in the new posts.  The floors are sagging ……. so, they need to be jacked up before the new posts go in.  We figure moving the floors up 1/2 in. at a time is safe.  This is moving 3 floors of a 1870s building so, we don't want to hurry.  We plan to raise it 1/2 in. once a month.
Photo on top – Dave trimming one of the posts …. perfectly square and flat.
Photo on bottom – Dave and I jacking up the floors the 2nd time.