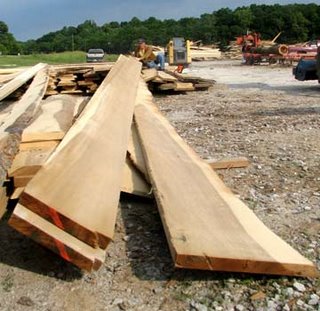 Thought I would try posting a photo on the blog. I see a photo …. hope you can see it. This is the long board I told you about. It was 38 ft. 5 in. long. I believe it was from the longest log we cut. The guy at the end of the board is John Burris. He is one of the volunteers and is there most days.
I thought I would try another photo and it has appeared. The photo on the left is the stone guys cutting a stone for the abutment. The abutments are all done …. I just wanted to get some of the photos from the past on the web.
The assembly of the bridge started today July 31, 2006. It will be a few days before we see something that looks like a bridge. They started with laying out the lower chord. I will try to get more photos on in the future. I don't want to press my luck this time.
Mike Roe
Bridgeton Mill