Posted By The Miller on March 12, 2009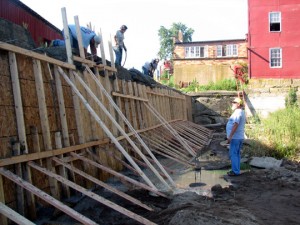 We hired a company to pump the concrete to the dam.  The concrete trucks would back up to their truck and dump the mix in.  They would then pump it out to the dam in a six inch hose.  Our forms were made out of plywood and 2 X 4s and the guys doing the pumping were concerned our forms might not hold.  I had ordered 45 yards of concrete and that weighs around 91 tons.  The forms were 8 ft. high.  We had build them at a slight angle to the dam so the new concrete would be thicker at the bottom.  Fourteen inches at the bottom and 4 inches at the top.  In the photo that is me in the center on top of the dam with a concrete vibrator.  This is used to get the air out of the concrete and make sure the concrete goes into every nook and cranny.  If I held it in one spot too long we could see the plywood bulging.  The guy on the ground is Joe Szymaszek.  He is watching the plywood for me.
The forms held ! ! !
Mike Roe