Posted By The Miller on September 23, 2010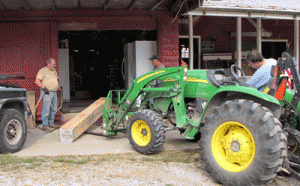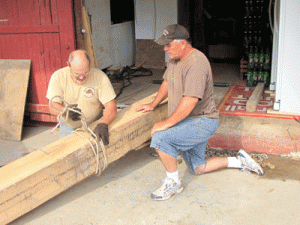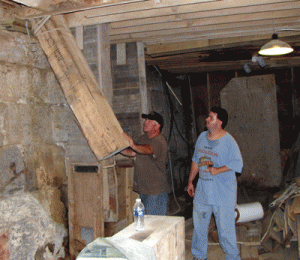 Dave Gahimer donated 4 oak posts to replace the jacks I have under the mill.  When I finish raising the floors we will slide the posts into place.  On the left Nathan Roe is bringing post to mill with tractor.  Middle photo – Dave and Rob Jones are getting it ready to lower into basement.  Bottom photo Rob and Nate are guiding it to floor.  Dave is lowering it with a wench.
My ribs still hurt from the fall I had in the mill so I try not to strain myself.  In the first photo you can see 2 new freezers.  The old freezer went bad and it was covering up the old hole where the wheat was shoveled into the mill.  When we moved the old freezer I told Karen "Be careful those old boards are rotten"  A few minutes later I fell through them.  My ribs kept me from going all the way into the hole.