Pouring — Blowing Concrete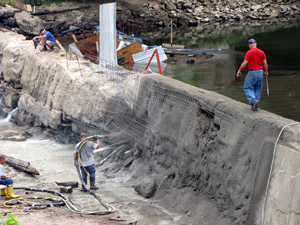 Charlie is drilling holes for re-bar and Carl Redensky is cutting and hammering it in.  Midwest Pumping is blowing the concrete onto the old dam.  You can see pipes coming out of the dam.  We couldn't get the water completely stopped so I started sticking the pipes into the holes and putting handfuls of concrete around them.  I would hold it there until it was solid enough and then I would grab another handful of concrete.  They told me they couldn't put concrete on top of moving water.  I told em to keep spraying because one way or another I was going to stop or divert the water.  Above the dam you can see metal and plastic.  I hired a crew to stop the water from going through the dam.  They slowed it down but could not stop it.  The old dam sits on a sandstone shelf and water was coming through the sandstone.
Make sure you click —– Next Page ——-  below this post for more blog photos.